Opening times
The Toddlers e.V. is open Monday to Friday from 8:00am to 3:00pm, pick-up time is 2:30pm.
We are closed for national holidays and for some of the days of Bremen's public school holidays.
Fees
The monthly fee per child is €380.
A one-time, fully refundable deposit of €350 is required. This includes the deposit for keys.
Financial Aid
For financial support with paying the Kita fees you can apply for aid at the Elternbeitragsstelle Bremen. On their webpage you'll find all the forms and information necessary to do so. We're glad to provide support to our parents who run into trouble in filling out those forms.
Parents' Duties
Each family is responsible for a duty throughout the year, e.g. teachers' assistant, gardening, regular purchases, etc.
In order to keep our doors open, when a teacher cannot come in, parents sometimes need to substitute for a day.
Midday Meal
The midday meal is organic-certified and catered by Diverso. Of course a vegetarian or vegan option is available upon request.
Verbund Bremer Kindergruppen
We are member of the Verbund Bremer Kindergruppen, which is an association of parent initiatives in Bremen. They lend support to boards, parents and teachers on various topics (e.g. organisation, education, employment, financial matters, etc).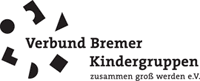 Verbund Bremer Kindergruppen e.V.
Admiralstrasse 54
28215 Bremen

Tel.: 0421-502663
Fax: 0421-592437
kontakt@verbundbremerkindergruppen.de